Police Shooting Investigations: The black box
---
Carmen Cobian stood outside the police tape
 for hours, waiting.
The red bike her son had been riding was tossed on the ground. Her cousin had heard gunshots. Dozens of deputies swarmed the street around the corner from her house in Lancaster. Had her son been shot?
"They wouldn't tell me anything," she said in Spanish. "I found out from a reporter."
Law enforcement officials hold information about police shootings close to the vest. Officers aren't named right away and details of the shootings are kept from the public for months, sometimes more than a year.
Law enforcement agencies aren't required to report data on the number of police shootings — or controversial details, such as whether the person was unarmed or suffering from mental illness. Few agencies do.
And in California, officer discipline is completely secret because of the state's Public Safety Officers Procedural Bill of Rights — one of the most restrictive laws in the nation.
Jeff Steck, president of the Association For Los Angeles Deputy Sheriffs, said the secrecy is meant to protect an officer from violent retaliation — not scrutiny.
"There are people who want to do us harm," Steck said.
There are people who want to do us harm.
On a large scale, a lack of public information means it's hard to get a big picture on police shootings.
The public is left in the dark on some of the biggest questions: How many unarmed people are shot? What race are those who are shot? What can be done to prevent more shootings?
To try to find out, KPCC analyzed public records from the Los Angeles District Attorney's Office for on-duty officer-involved shootings between 2010 and 2014. Other media organizations are also trying to fill in the gap.
Both the Washington Post and the Guardian, for instance, have scoured media reports and other open-source reports since January and published searchable, national databases this year. The Guardian's lists all deaths at the hands of law enforcement; The Post lists fatal shootings. KPCC's analysis includes shootings whether or not the person died.
A long list of public officials are calling for more transparency from the police. In a speech last month James Comey, the director of the Federal Bureau of Investigation, advocated for officer-involved shooting data to be part of the National Incident-Based Reporting System.
"It's what smart people use to make good decisions all over the country in all walks of life and in all kinds of work," Comey said in a speech at the University of Chicago Law School in late October.
Jeff Page, a Los Angeles civil rights activist, said the lack of information makes it difficult for watchdogs to hold bad officers or police units accountable.
"If we want a fair and square playing field," Page said, "there need to be neutral entities watching."
Of course, there are.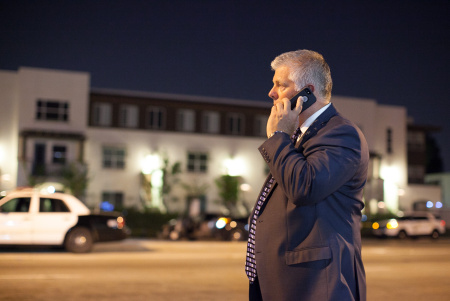 When officers shoot civilians in Los Angeles County, a virtual army of police investigators and outside watchdogs roll out to the scene: internal affairs detectives, homicide detectives, prosecutors and investigators from the District Attorney's Office. Independent investigators from the Office of the Inspector General visit the scene of LAPD shootings.
The investigative reports will be reviewed by top brass and, in LAPD's case, the Police Commission.
"We have absolutely the most comprehensive process in officer-involved shootings in the entire nation," said LAPD Deputy Chief Bill Murphy, who reviews shootings for possible discipline.
The most transparent of agencies will eventually release a public summary laying out details of a shooting and whether it was in policy — and it almost always is found in policy.
But there's also a lot of resistance from agencies.
When the LAPD's Police Commission released a remarkably comprehensive report this summer finding fault with one of the officers who shot Ezell Ford, it never named them, even though the officers' names had been widely published by the media. Chief Charlie Beck has declined to report what discipline, if any, he meted out, saying the law ties his hands.
But Beck vowed last week to release a comprehensive report on police shootings at his department by the end of the year. He said it'll include demographic data and other facts to help the public "make a better assessment of the way the police department deals with use of force issues."
Watchdogs have complained about departments making meaningful oversight difficult.
Los Angeles County Sheriff Jim McDonnell has for months opposed efforts to give a new civilian oversight commission subpoena power to investigate deputies.
"I want to be as transparent as we can," McDonnell said earlier this year. But he said he still has to abide by state law that blocks the release of officer discipline.
On the other hand, his agency recently published reports on its website with key details of deputy-involved shootings — including whether any discipline was meted out and details such as whether there were signs of mental illness in the people shot. That level of disclosure is rare.
One of the most powerful forces fighting against disclosure is police unions.
The police union in Pasadena filed a lawsuit to block the city from releasing an independent investigation into the fatal shooting of Kendrec McDade, an unarmed, black teenager.
Even when relatives file civil wrongful death lawsuits, some of the information remains secret. Police said some of that is meant to keep investigative techniques under wraps so they can do their job.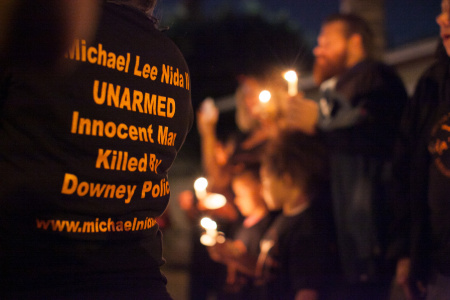 The family of Michael Nida, who was shot and killed by a Downey Police Officer in 2011, said laws meant to protect officer privacy have repercussions in civil courts.
"You know what's unfair?" asked Jean Thaxton, who raised Nida from childhood. "When you go to court, they can drag out [the deceased's] history from the time you were born and put it on trial... but the police officer's history is protected, and they cannot bring it out."
When you go to court, they can drag out [the deceased's] history ... and put it on trial, but the police officer's history is protected, and they cannot bring it out.
KPCC has found discrepancies in how departments handle even simple requests, like releasing recordings of 911 calls around police shootings.
The Los Angeles Sheriff's Department and Monterey Park released them. LAPD and El Monte Police Department declined, saying it was their policy to keep them secret. California public records laws mandate the release of information about 911 calls — but don't explicitly require that police release the actual recordings.
Recordings — specifically videos — are the next frontier in the fight over police records.
Earlier this year, the Los Angeles Times asked a judge to force the city of Gardena to release a video of police shooting two unarmed men after the video was filed in court as part of a civil lawsuit against the city.
Mildred O'Linn, the attorney representing the city, said releasing footage would violate privacy rights of citizens caught on camera and will turn police work into a spectacle.
If police footage is deemed a public record, she said, police "video from across the United States is going to be the feeder for a reality television show."
O'Linn said releasing police video has the power to incite rioting — "to set your cities on fire."
A judge ultimately ruled in favor of release.
Other local cities, including Long Beach, are actively fighting against disclosure of police video in court. The LAPD has adopted a policy stating that the videos are part of investigative files and, therefore, not public.
But some cities outside California, including Seattle, Washington and Washington, D.C., have adopted video policies that favor transparency.
Merrick Bobb, who served as special counsel to the Los Angeles County Board of Supervisors, watchdogging the Sheriff's Department for nearly 22 years, said releasing video, data and documents would help create more accountable — and ultimately more effective — police departments.
"It means it's not a mysterious black box where the facts come in and the results come out," Bobb said.